8 ~ My green wall
8 ~ My green wall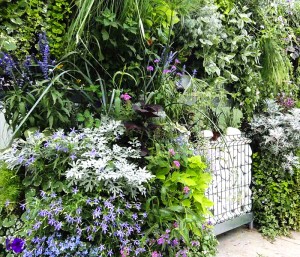 Architecture :

An original idea for the interior and exterior, the entourage of a pond, a swimming pool, a terrace, a wall or a view to hide.
It is made of vertical planters of important dimensions which can contain a big volume of substratum (mixture of earth and organic fertilizer) going to 300 liters. Allowing to constitute a real restraint of natural water.
A water supply with an exceptional capacity of 30 liters is located at the base of the wall and rises by capillarity along the hydrophilic felt feeding the plant roots.
Environment :

The hydrophilic felt is made from recycled textiles. It acts like a sponge stuffing itself with water by irrigation or by rain and releasing it gradually in proportion to the need of the plant. This felt acts as a thermal insulator thus preventing water loss through evaporation during the heat.
The substrate is crafted from local materials such as bark of pine of the moors from the paper industry. It is also composed of wetting agents and water retention agents to reduce waterings. 
Steel and aluminum can be recycled at end of life. Perennials low hydric requirements are mostly used and are present by long-lasting manners. The use of depolluting plants is perfectly appropriate to this concept.
Loading Images