Some Feng-Shui garden basics
A solid foundation for increasing the energy of your green living space.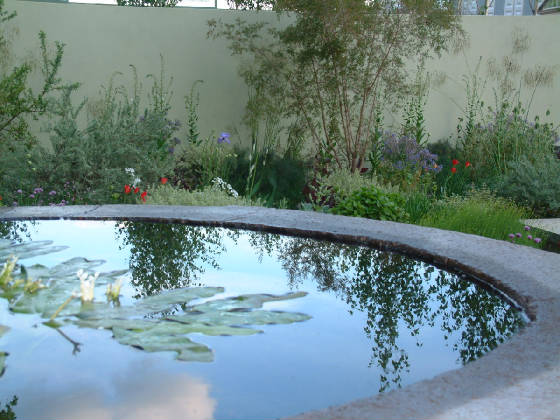 L'eau ou "Shui"

Healthy, serene water
"Elément indispensable et naturel de notre vie, l'eau est une énergie vitale pour notre corps comme elle l'est pour notre jardin.
With its intense, dynamic energy, it creates a fluidity, a movement that generates strength and power in the garden.
Water is essentially yin, and is thus symbolically associated with femininity and fertility. When it moves smoothly, it has a more yang energy quality, bringing prosperity in its wake.
Pour bénéficier de cette énergie miraculeuse, l'eau doit comporter certaines qualités (clarté, débit, dimension…) et être placée aux meilleurs endroits (implantation, direction, dates…) . Ces savoirs ancestraux, où l'observation et les calculs précis entrent en compte, sont suivis avec rigueur par les Maîtres Feng-Shui."


Le vent ou "Feng"
"Un des premiers principes connus est celui du Chi; ce flux d'énergie saine et invisible à l'oeil nu est cependant bien perçu par nos capteurs corporels. Il est nécessaire à notre bon équilibre physique. Idéalement le Chi se déploiera sans obstacle et passera chez nous sans être 'blessé' pour garder une excellente qualité vibratoire.
Nommé 'Chi', l'énergie vitale qui parcoure et nourrit nos jardins se mesure à la hauteur de sa qualité et de ses bienfaits. Nous chercherons toujours à améliorer l'existant surtout si l'énergie est basse et est qualifiée de 'sha' (énergie stagnante) ou de 'shar chi' (énergie agressive) tourné vers votre jardin ou votre bâti."
The choice of positioning of the entrance, walkways, structures, trees and plants, water and stones... will be made according to the space to be landscaped, following the traditional principles of Feng-Shui. The aim is to restore the original quality of Chi, bringing happiness and well-being. This of course applies to any style of garden.
As for telluric energy, that's another story: the direct link between the earth and the face of your garden. This subterranean Chi can be regulated with the help of raised stones. The finesse of Feng-Shui Garden Art!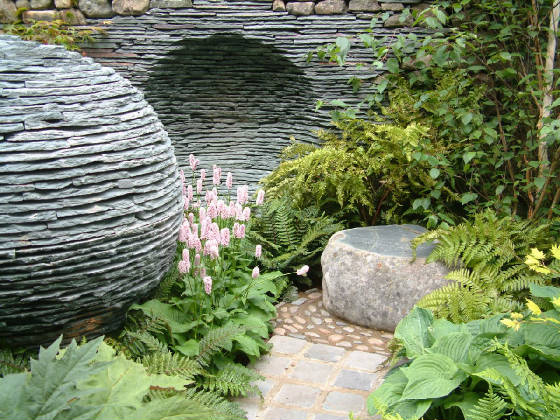 Beauty and serenity of Stone
"Poser une pierre dans un jardin, voilà une bien belle oeuvre d'une importance majeure.
Each stone should be strategically placed on a positive energy point corresponding to a Chi of health.
La pierre doit être implantée côté yin vers la Terre (ses racines telluriques), côté yang vers le Ciel (ce qu'elle reçoit, énergie cosmique). Et elle doit être en communication avec les autres sujets s'il en existe plusieurs prévues dans la conception générale du plan de votre jardin."
The stone garden
as an entity that seeks to imitate beauty
and perfection of nature.


 
> Formations à l'Art de la Pierre Levée
My Feng-Shui Garden and I