Audit, Creation and Design of your space or garden...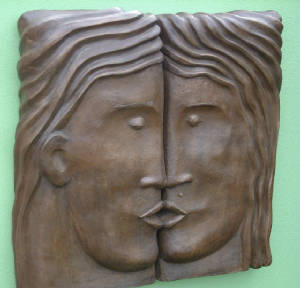 Audits *
Nathalie will come and take the temperature of your garden, interior or exterior space, discuss your short- and long-term projects and audit the potential of your green space according to the principles of feng-shui. Take the time to feel what's going on in your garden, listen to your needs and list your priorities.
 * You'll receive advice on how to design each sector of your garden: color, shape, materials, plants, in the form of a proposed layout plan for each sector, with ideas for each area; you'll also receive a proposed choice of plants for each sector, giving you the trend for it: vegetable garden, orchard, permaculture, rock gardens, pond, terrace and other points will be submitted to you. A Garden Audit report will be given to you, with an analysis of your 9 sectors and the rebalancing to be carried out. This report will be accompanied by a photo file for each sector. You'll take notes during the visit and have a one-year follow-up on what was audited. In many cases, this initial audit is enough in itself to improve the layout of your garden. This audit can be supplemented by the creation of side plans if you wish. In this case, another estimate will be drawn up based on what you wish to see below, with the Audit deducted from this 2nd estimate.
Audit booking condition:
50 % à la commande et à la préparation du dossier: vous fournirez adresse, plan de masse, photographies du jardin (devant-derrière-côtés), le listing de vos désirs jardin ou/et de vos idées déco; si vous n'avez pas d'idées précises, j'en aurai à vous proposer. Lors de l'Audit, vous poserez toutes les questions que vous souhaitez, vous prendrez des notes, un suivi sera effectué sur une année, vous recevrez un rapport d'Audit sous 3 semaines; pour la partie financière les 50 autres % seront à régler lors de l'audit; les frais de déplacement et d'hébergement seront à votre charge sur justificatif; excepté pour les Audits pouvant être réalisés à distance; (voir ci-dessous la page "autres prestations et services").
Creation of side views
You will then be presented with an overall design project, so that you can make the right choices with complete peace of mind, and benefit from them at the right time. You'll discover a palette of colors, shapes and materials adapted to your space. You'll also be presented with innovative decorating ideas that respect your personality. * In the 2nd phase, you'll be offered the chance to realize..:
2D side plans for your green space. Different levels of work will be submitted to you and you can choose according to your budget: creation of side plans to arrange the structure of your garden: here it's a question of creating a general plan with all the feng-shui structures that can be integrated into it: pond, fountain, terrace, vegetable garden, orchard, permaculture area, agroforestry, collection gardens, rock garden...and many other points that we will have validated together during the Audit.

A planting plan accompanied by a plant listing and quantity so that you can order these from your favorite nursery or garden center, or from us; we supply mostly organic plants.

You can opt for 3D plans or a virtual tour.

The last option is your choice of a unique piece design, as I've done before for pagodas, fences, sculptures, planters or other special Feng-Shui Garden Designs.

Finally, each dossier is accompanied by a listing of Feng-Shui decorations with links to our suppliers.

Each Audit or Creation file is tracked from date to date for one year.

Of course, we can also design your garden from A to Z. This service will be the subject of a 3rd quotation, depending on what you wish to include: terrace, natural pond, pathways...

Wishing you all a garden of peace and harmony.
Reservation conditions for the creation of side plans:
Celle-ci ne sera possible qu'après la phase "Audit". 50 % seront à verser à la commande et à la préparation du dossier et 50% à l'envoi du dossier après validation des plans par vos soins (entre 3 à 5 semaines suivant le travail demandé et le temps à y consacrer). L'Audit réglé préalablement sera déduit du devis de Création. Les frais de déplacement et d'hébergement seront à votre charge sur justificatif; excepté pour les Créations pouvant être réalisées à distance; (voir ci-dessous la page "autres prestations et services"). Vous bénéficierez d'un suivi d'un an de date à date. Vous pourrez faire aussi appel à nos services pour la concrétisation de votre jardin, dans ce cas un 3e devis sera réalisé en fonction de la validation de vos choix jardin.

What will we need for our first meeting?
Un espace vert ou pas! Et si possible de: votre liste de "courses" (entendez: ce que vous désirez), un plan de masse.
We'll take the photos, notes, sketches, measurements, etc. required for the design you're looking for.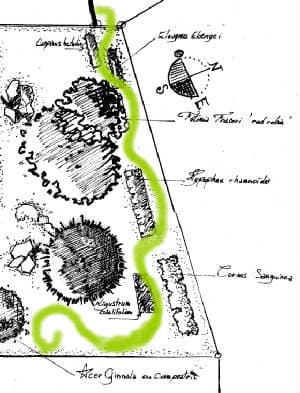 Basics of architectural design
In many cases, this expertise reveals existing shortcomings and weaknesses in the home or business. A poorly designed garden can increase the negative effects of areas absent from the construction or poorly arranged. Hence the importance of rebalancing the garden with positive energies.
Feng-Shui garden architecture aims to rebalance and reharmonize the existing correlation between the natural landscape, the built environment and the flow of energy in your garden.
Les rééquilibrages se feront sur la rénovation ou la création d'un plan d'ensemble cohérent, d'implantations de pierres dites "levées", de points d'eau, d'arbres et de végétaux, d'allées…Les hauteurs des plantations, les couleurs, les formes et les matériaux ennobliront ce projet d'un Jardin de Bien-Etre.