L'Architecture de mon Jardin Feng-Shui
Découvrez comment créer vous-même le jardin de vos rêves : Voici le guide pratique du livre Mon Jardin Feng-Shui et moi pour créer soi-même son jardin Feng Shui idéal. Etape par étape, l'auteure vous guidera pour créer votre jardin selon le terrain, vos envies, vos rêves, mais aussi les règles du feng shui. Une véritable aventure de création au plus près de la nature.
Vous découvrirez des outils d'analyses et de conception simples, des grilles qui permettent de ressentir les liens énergétiques qui existent entre son lieu de vie et soi-même. Des clés qui ouvrent sur les aspects positifs du paysage à vivre en tant que havre de paix.
Des recettes pour planter un lieu de biodiversité, pour augmenter l'énergie naturelle de son espace en y invitant la faune, la flore spontanée et pour garder une végétation en bonne santé.
Des astuces pour réussir du premier coup d'oeil à analyser et à structurer son plan de jardin et pour savoir quoi mettre dans son jardin. Des méthodes pour révéler et activer son côté créatif, pour faire jaillir ce qu'il y a de plus beau en soi et pour se sentir heureux d'être le peintre-architecte de son propre jardin.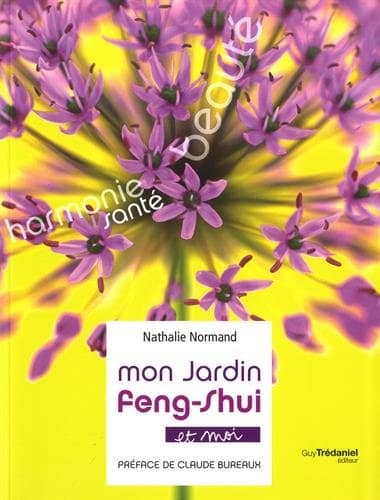 My Feng-Shui Garden and I
Le livre Mon Jardin Feng-Shui et moi apporte des pratiques originales de culture et de paysagisme héritées de la tradition Feng Shui. On y apprend à harmoniser les couleurs, les formes, les matériaux, les arbres et les fleurs, tout en équilibrant l'atmosphère générale en jouant avec les sons, les vibrations et les sensations.
By improving the energy in your garden, you can recharge your batteries, uproot your worries and create a place of conviviality and sharing. Your garden will become an enchanted place, conducive to the serenity and well-being you're looking for.
The Feng-Shui garden is a little paradise on earth, an island of greenery and serenity. To cultivate it, we must respect the landscape and biodiversity, preserving spontaneous flora and fauna wherever possible, as well as the work of those who have gone before us.
Mon Carnet de Visites de Jardin
Parce qu'on aime garder des souvenirs des beaux Jardins que nous avons découverts et visités lors de nos voyages, voici le carnet idéal pour les garder en mémoire.
Que vous visitiez un jardin remarquable, un jardin de particulier, un événementiel où se réunissent les professionnels du jardin ou que vous vous promeniez tout simplement dans la nature…
Ce carnet sera parfait pour noter : les lieux de vos voyages effectués pour dénicher les jardins les plus insolites; les personnes que vous aurez rencontrées, les bons moments que vous aurez passés, les plantes que vous aurez admirez, les boutures qui vous auront été données, les photos que vous aurez prises, les dessins ou les croquis que vous aurez réalisés, les documents de visites qui vous auront été fournis, les cartes postales…et mille autres idées qui vous viendront selon votre « météo jardin ».
Offrez-vous ce carnet pratique qui j'en suis sûre, sera compléter très rapidement ou faites-en cadeau à une personne qui aime voyager et visiter de nouveaux horizons jardins.
Son format unique ira bien dans votre sacoche ou dans votre sac, ce carnet de visites de jardins comblera tous vos voyages.
Carnet de 144 pages rythmées de 4 pages par visite: lieu, personnes rencontrées, noms des plantes, notes, dessins…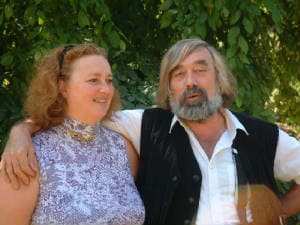 Préface de Claude Bureaux
 
J'ai rencontré Nathalie lors d'une conférence de l'association des Jardiniers de France au Potager du Roi à Versailles. Lors de nombreux « échanges-débats », j'ai pu accéder à son univers philosophique et découvrir cette technique millénaire du Feng Shui.
L'approche de la Nature et du Jardinage de Nathalie, mis en parallèle avec nos actions de défense de la Biodiversité et de notre patrimoine génétique horticole, m'a fait comprendre que de nombreuses préoccupations des « Jardiniers-Citoyens » se retrouvaient dans cette discipline originale en occident.
Le Jardin est un microcosme de la vie, source de changement, de perpétuelle création, il est le lieu de merveilles et d'espoirs sans cesse renouvelés. Nous devons agir pour le respect du paysage et de la Biodiversité, en préservant partout où cela est possible, la faune et la flore spontanée ainsi que le travail des jardiniers qui nous ont précédés ; en conservant les végétaux cultivés et la mémoire de nos variétés locales, malheureusement souvent en voie de disparition.
Un jardin est un petit coin de Paradis sur Terre, mais aussi un écomusée que l'on doit transmettre aux générations futures.
« Celui qui cultive son jardin répand le bonheur », nous dit un proverbe chinois, travailler dans un jardin nous procure un profond sentiment de sérénité. Ici rien n'est urgent, rien n'est « branché », rien n'est « stressant », c'est la vie. Chaque plante change, pousse, avec un but précis, modestement, en prenant tout son temps. Il faut respecter le lieu, l'améliorer car le jardin se doit d'être évolutif, mais sans en perturber le fonctionnement naturel. Les végétaux « historiques » témoins de notre passé et de notre richesse horticole se doivent d'être préservés.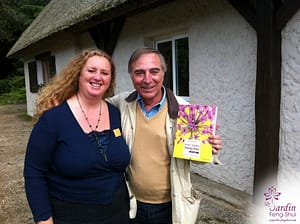 La véritable beauté est dans la relation que l'homme établit entre le jardin et le paysage environnant. La protection de la diversité végétale doit être le moteur de notre action. Ce que nous voyons ne correspond pas uniquement à un spectacle mais à un acquis pour la vie.
Le Feng Shui avec son approche de la Nature, ses techniques d'observation du paysage et son souci de ne pas porter atteinte au patrimoine pourrait en l'adaptant à nos méthodes de travail rigoureuses, cartésiennes et aux acquis du « Jardin à la française » nous faire découvrir sous un jour nouveau des pratiques originales de conception paysagère et de culture.
My Feng-Shui Garden and I